News
Rob Udewitz has worked with athletes in many sports some of which include golf, tennis, squash and track and field. When working with athletes, a multi-modal approach is individually tailored from a complete psycho-physiological assessment. The assessment provides data to identify areas of strength and weakness in the athlete's ability to manage performance stress. When combined with other sport-specific measures a game plan is developed. Dr. Udewitz integrates technologies like biofeedback and virtual reality along with more traditional sport psychology techniques (i.e. mental imagery, relaxation training and self-talk strategies). These techniques sharpen athletic performance and help athletes find a consistent and reliable process oriented approach.
---
Jason writes about his mental preparation work with Rob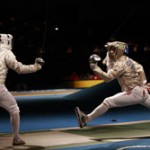 As a psychology major in college, I am keenly aware of the mind-body connection. I felt strongly that if I was going to succeed beyond my result in the Olympic Games in Athens (25th place individual, 4th place team), it was essential that I be more proactive about cultivating the type of strong mental foundation that "peak performance" comes from.
After having moved to New York City one year before the Beijing Games, I was lucky to forge a bond with Rob, who help me too fast track my mental training program and achieve the goals that I set to accomplish during that very important year. We delved deeply into a program that included innovative techniques such as, Biofeedback, Neurofeedback and Structured Visualization to create that type of base that is so important when dealing with the stress of elite level athletics. Rob was there coaching me through every step of the process, from the beginning of the qualification to end when it got really tough.
Before the last 2 qualifying tournaments for the Games, I had fallen to 6th place in the rankings after a string of disappointing results. Knowing that I needed to be in the top 3 by the end of those 2 tournaments, I felt the pressure mounting. However, unlike previous times, I was ready for this pressure and viewed it as an opportunity to test myself and all the techniques that Rob and I had been working on.
In our last international competition, I won two very critical bouts propelling me to a very much needed 12th place finish. Three weeks later in our Olympic trials, I was still out of the top 3 but felt confident about my ability to make the result that I needed to qualify for my second Olympic team. The competition started out a bit rocky, but in the end thanks to my mental training, I was able to prevail in a critical match between me and the only person left could take that last Olympic spot, thereby securing my qualification.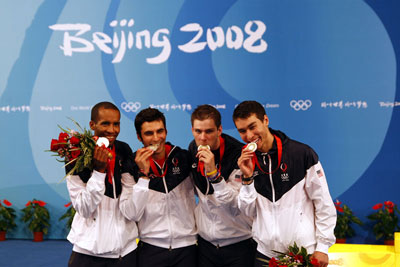 From there I continued to gain momentum with our program. We worked diligently leading up to the Olympics during which Rob never ceased to challenge my own limits and boundaries, while at the same time putting me at ease during such a stressful time. In Beijing, despite a rough day in the individual competition (28th place individual), I was able to stay tough and focus on the team event. Thanks to my hard earned mental resilience and focus, I helped our team win a silver medal, which was the best performance for the US team in the history of our event. Rob will forever have my gratitude for playing such an integral part in this tremendous result. Thanks so much Rob, and I look forward to keeping the momentum going!